orlan
SCENES FROM THE OPERATING ROOM DURING ORLAN'S 7TH PLASTIC SURGICAL OPERATION ENTITLED NEW YORK OMNIPRESENCE. NOVEMBER 21, 1993, PROCEDURE INVOLVED SEWING IMPLANTS INTO ORLAN'S TEMPLES TO CREATE TWO LUMPS, AND PLACEMENT OF AN IMPLANT INTO HER CHIN THROUGH THE LIFTING OF FLESH AND INSERTION OF MUSCLE TISSUE.
Consider the theater of Orlan. It aims to impact memory, to physically condition this mental state, thereby suggesting that one's thoughts and the recollection upon which they rely can somehow be tangibly modeled, shaped. In its deliberate diversity Orlan's art constructs memory through a plurality of media that will ensure that "something"--whether a face (hers), a feeling (yours), a desire (of artist and spectator)--be both transmitted and received. Text plays an active role in this process and is submitted to as wide a range of articulations as are images, Orlan's self- produced self- imagery
eduardo kac
investigate the philosophical and political dimensions of communications processes. Equally concerned with the aesthetic and the social aspects of verbal and nonverbal interactions, I examine linguistic systems, dialogic exchanges, and interspecies communication. In 1998, to further expand my investigation of communications processes, I proposed Transgenic Art, a new art form based on the use of genetic engineering techniques to transfer synthetic genes to an organism or to transfer natural genetic material from one species into another in order to create unique living beings. The nature of this new art is defined not only by the birth and growth of a new plant or animal, but above all by the nature of the relationship between artist, public, and transgenic organismñwhich must be respected, loved, and nurtured like any other organism.
Roxy Paine Sculptures
"Kick Butt" by Roxy Paine 1992 (at the Herron Test Site)
This piece is activated every few minutes. The boot rises
slowly, then releases on its pendulum arm, swinging back
and kicking the rubber bust of the artist's lower torso which
then reverberates on its springy stand.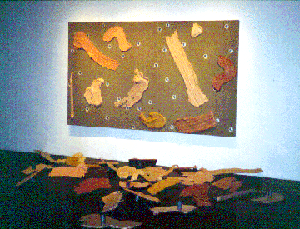 "Plug-in Painting" by Roxy Paine 1995 (at the R. Feldman Gallery, Soho)
A large 'canvas' with randomly placed inserts which accept the intriticately
molded larger-than-life brushstrokes.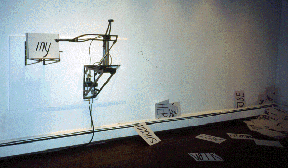 "The Flinger" by Roxy Paine 1995 (at the R. Feldman Gallery, Soho)
The Flinger sits dormant most of the time. On periodic intervals,
the masterfully welded machine lowers its arm, grabs a card,
and flings it across the room, exposing the next card. The sequence
of cards record conversations of the artist and was restocked daily
during the month-long showing of the piece.
sarita vendetta
judith scott
udith Scott (born 1943), a fifty-five year old woman with Down's Syndrome, has spent the past ten years producing a series of totally non-functional objects which, to us, appear to be works of sculpture, except that the notion of sculpture is far beyond Judith's understanding. As well as being mentally handicapped, Judith cannot hear or speak, and she has little concept of language. There is no way of asking her what she is doing, yet her compulsive involvement with the shaping of abstract forms in space seems to imply that at some level she knows. Judith possesses no concept of art, no understanding of its meaning or function. She does not know that she is an artist, nor does she understand that the objects she creates are perceived by others as works of art. Whatever she is doing she is definitely not concerned with the making of art. What then is she doing? Unmistakably she is working, and working hard. Her formidable concentration surpasses that of most professional artists.
adolf wolfi
hannah hoch
Hanna Hoch was born in 1889 and grow up in Germany in the small town of bourgeois milie. She was from a middle class family. In 1912 at the age of 22 she left home to attend college in Berlin. She was supported by her family, and also worked at a newspaper and magazine publisher. Later in life she would worked as a pattern and handy craft designer for several women's magazines.
In the early 1920's Hanna was involved fellow dada artist Raoul Hausmann. Hausmann was married and remained with his wife. Around 1926 they split up and Hanna started a relationship with Dutch writer Til Brugman. The two women lived together in until 1929. Hoch was briefly married to Kurt Matthies but remained childless. She continued to create and show her work through out her life. She died in Berlin 1978.